An Orderly Account: A Tour of Luke's Gospel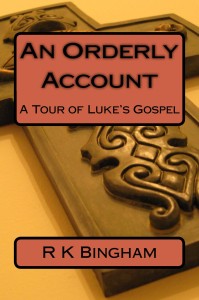 Purchase this book:
Paperback:
Digital:
"An Orderly Account" is a scriptural examination of Luke's synoptic gospel from beginning to end, this book analyzes each chapter of Luke's account of the birth death, and resurrection of Jesus Christ. Addressed to a Gentile audience, Luke's gospel provides a unique perspective in compelling detail.
In chapter one of Luke's Gospel (as in the book of Acts), Luke addresses someone named "Theophilus," who we can assume to be a Gentile (Greek, the name suggests, as it is assumed that Luke was as well). Considering the way that Luke addresses him in verse 3, it is supposed that he might be some sort of government official – possibly a man of some means as well. The first four verses of chapter one tell us a great deal about what we can expect from the Book of Luke:
Inasmuch as many have undertaken to compile a narrative of the things that have been accomplished among us, just as those who from the beginning were eyewitnesses and ministers of the word have delivered them to us, it seemed good to me also, having followed all things closely for some time past, to write an orderly account for you, most excellent Theophilus, that you may have certainty concerning the things you have been taught.